---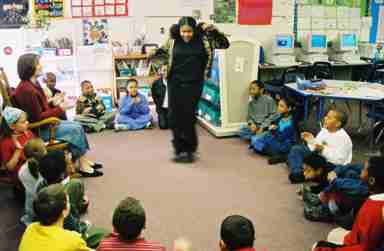 INCLUSIVE TEACHING
The Journey Towards Creating Effective Schools for All Learners
---
STUDENT LEARNING PROJECTS
Below are files for student projects that may be undertaken as key responsibilities in the course. These are available in the Instructor's Resource Manual and the CD that is provided for faculty. Please feel free to share additional learning projects that you use in your own classes by contacting Michael Peterson. Examples of student work on many of these projects can be viewed at Learning Works!
---
Home Teams. Students are placed into groups of 3-5. They will work together throughout the semester engaging in in-class learning activities. They will also collaborate in the text dialogue process. Here is a form you can use to record members of the group and the name of the group. It's helpful to create a group page on Blackboard or similar online programs. At the end of the semester they are asked to submit a peer evaluation.

Individual Class Plan. At the beginning of class students are asked to develop an individual class plan in which they do the first part of KWL process - eg. (1) What do you know about inclusive teaching? (2) What do you want to know? They are asked to develop learning goals for the class and a rubric based on these goals which will be used at the end of the class to document (3) what the student has learned. Students are asked to complete the tool, Quality Teaching for All, a teacher self-assessment tool based on the eight principles of Whole Schooling. You can download directions to students that is incorporated into the syllabus, a rubric used for grading their class plan, and the Quality Teaching for All tool.

Text Dialogue. Students work together to create a collaborative summary of each chapter and then engage in a discussion of the chapter in class, typically during the first 30 minutes. Here are directions you can include in your syllabus and a recording form and rubric students can use for self-evaluation and that can be used for grading the text dialogue.

Inclusive Schooling Observation. Students are expected to locate a school and visit a general education classroom where at least one student with a disability is being included. They also are asked to interview the general education teacher and a special education support staff, whether special education teacher, speech therapist, paraprofessional or some other staff person. They write a report regarding what they saw. An analysis based on key questions and recommendations for improvement can either be part of this project or part of a group project below. You can download guidelinesand a rubric to be used for evaluation and grading of the assignment.

Choice Projects. Students are asked to complete 2-3 choice projects. You can download a list of possible projects as well as a rubric to use for evaluation and grading of the assignment. Students are given time to share their projects in class. Other students can complete a project feedback form to give feedback to the student and raise additional thoughtful questions.

Inclusive Teacher Guide. Students develop a guide for either a general education teacher or support staff - special education teacher, counselor, and speech therapist. The goal is that the student develops a guide that synthesizes the key lessons of the class and applies them to their own teaching at a particular grade level and subject. This project allows students to leave with a document directly applicable to their teaching practice. You can download guidelines and a brief or detailed rubric to use for evaluation and grading.
---