---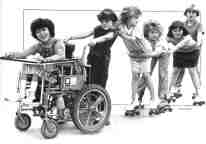 INCLUSIVE TEACHING:
The Journey Towards Creating Effective Schools for All Learners
CHAPTER TWO
Introduction to Inclusive Teaching
This section provides learning resources for this chapter. Each resource is described below. Click on the menu on the left to go to a particular resource.
InclusiveNet. Links organized by the different sections of the chapter.
Learning tools. Tools for analysis, discussion, and planning you may use in class, professional development, and in your own practice as a teacher.
Quality Teaching for All: Self-assessment for Teachers. See Activity Tool 2-2 is based on the eight principles of Whole Schooling. It allows teachers to do a self-assessment and plan professional development related to a wide range of skills needed for inclusive teaching. It's helpful to have individuals complete this individually and then discuss the implications in small groups.
Planning for Inclusive Teaching. Use Activity Tool 2-3 and ask participants can sketch ideas for how they might teach students with wide ranges of ability together this year.
Back to Student Learning Center
---
Artwork reprinted by permission of
Martha Perske from PERSKE:
PENCIL PORTRAITS 1971-1990
Nashville: Abingdon Press, 1998.