---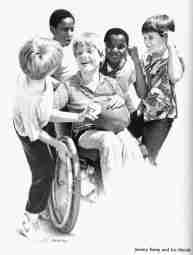 INCLUSIVE TEACHING
The Journey Towards Creating Effective Schools for All Learners
CHAPTER EIGHT
Make Environmental Accommodations and Use Assistive Technology
InclusiveNet. Links organized by the different sections of the chapter.
Learning tools. Tools for analysis, discussion, and planning you may use in class, professional development, and in your own practice as a teacher.
Assistive technology and student learning needs. Activity Tool 8-2 asks participants to use information in chapter 8 to summarize strategies for using technology to meet the needs of selected types of students discussed in chapter 3.
---
Artwork reprinted by permission of
Martha Perske from PERSKE:
PENCIL PORTRAITS 1971-1990
Nashville: Abingdon Press, 1998.